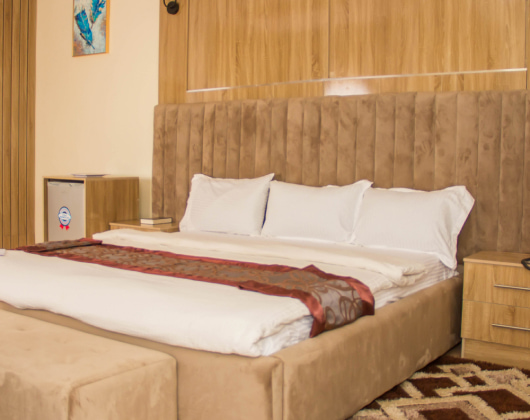 Havannah Suites & Conference Center
If you are seeking superior hotels, Havannah Suites & Conference Centre is the perfect location to begin your search. Our luxury Havannah Suites blend current-day modernity with classic elegance. You will enjoy the convenience of newly redesigned rooms and suites, a full-service fitness center, swimming pools, large restaurants, large halls, meeting rooms, and some of the best bars and lounges to celebrate and entertain in sophisticated style.
Discover the many elements of this esteemed Havannah Suites & Conference Centre in Alimosho, Lagos State.
Our Strengths
*Location…Serene, Motorable, easily accessible, and close proximity to places of interest
*Rooms…69 luxurious rooms and a PentHouse
*Meeting Halls…..3 halls apartments, Viz:-1-Treasure Hall…600-800 seating capacity. 2- Hall 2…+60 seating capacity. 3 Meeting
* Meeting Room..+20 seating capacity
*Treasure Club….+200 capacity]
*Restaurant…Serving both intercontinental and local dishes; seating capacity of 50
*Bar…….Pool Bar & VIP Bar
*Fitness Centre….Gym & Swimming Pool
*Houseplants…500kva & 250kva Generators
*Catering Services…Both indoor & outdoor catering services
*Events & Entertainment… Weekend Show performance at the poolside, Birthday Party, Wedding Reception, Group lunch, Banqueting, etc
* Staff….+50, mastery of hospitality service
*Customers…..Solo Travellers, Business Traveller, Corporate Bodies/ Companies
Our Vision
To ensure that every guest who visits, stays, or dines with us is satisfied with a memorable experience, THE HAVANNAH SUITES EXPERIENCE.